Meet Dr. Jeremy Barchman
"Helping your family be their best is my passion!"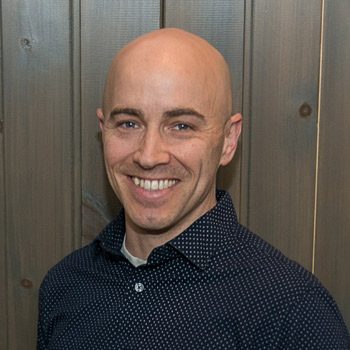 When he was a young boy, Dr. Jeremy had great results with chiropractic care that greatly improved the quality of his life. He was fascinated to learn how the function of the spine and nervous system can affect the overall function of the body, and if there are issues unresolved within the spine, overall health and vitality can suffer. He decided at a very young age to become a chiropractor.
Dr. Jeremy earned his undergraduate degree from Iowa State University before graduating with honours from Palmer College of Chiropractic as a Doctor of Chiropractic.
The focus of Dr. Jeremy's practice is Pediatric & Prenatal Chiropractic and Family Wellness, and is passionate about helping kids to have their best life by helping their nervous system work at its greatest potential. There is no higher honour than being entrusted with the care of newborns and infants, and "Dr. J" has the privilege of caring for many newborns, infants and kids of all ages each day at DBC. While they have a special place in our hearts and our operations, he also sees "grownup kids" as well.
Dr. Jeremy is passionate about providing practice members with the most up-to-date assessments of how their nervous system and body are working, and specifically tailored plans to make improvements to achieve their individual goals . He has dedicated his professional career to the most advanced training and techniques available to provide measurable changes in nervous system function so that his clients of all ages can get the life they deserve. He knows that the greatest impact on the life of an individual happens as early as possible, and Pediatric and Prenatal Chiropractic Care have become his professional passion.
Since starting Dynamic Balance Chiropractic in Ajax in 2008, Dr. Jeremy and Dr. Holly have worked tirelessly to provide the best service possible for their clients, and have built an amazing team to help them do just that!
EXPLORE CHIROPRACTIC »
Dr J also enjoys reading, gardening, weight-lifting, running, snowboarding and surfing, but he spends the bulk of his time out of the office with his three sons. The family loves to travel, go camping, explore nature and play sports of all sorts.
In combining the dual passions of travel and chiropractic care, Dr. Jeremy travelled with Dr. Holly to Bolivia on a chiropractic mission trip. They provided care for underserved individuals who would not otherwise have the means or access for care, and they were witness to many amazing outcomes in these short visits.
Discover how great you can feel and the life you can achieve with natural chiropractic care. Book an appointment with Dr. Jeremy today!

Dr. Jeremy Barchman | (905) 686-0960