Chiropractic Care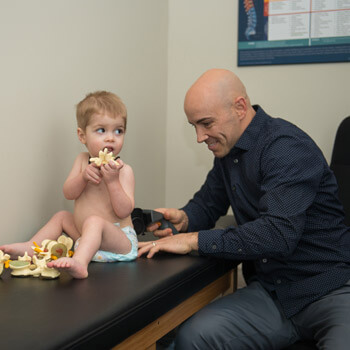 To help our practice members achieve and maintain peak levels of health, our doctors provide safe and effective chiropractic care.
We Assess, Never Guess
So we can provide our practice members with an objective assessment at Dynamic Balance Chiropractic, we use scanning technology from the Chiropractic Leadership Alliance to measure how your nervous system is working at the beginning and a throughout your care. We don't base your care recommendations on subjective complaints or how we think, but based on how your spine and nervous system are working. An evaluation using this state-of-the-art technology is given at the beginning of your first visit. We repeat the scan at specific benchmark points throughout your care.
We will look at your history, current situation and add in objective outcome measures combined with our experience to formulate a plan that's tailored to your needs and goals. Then we will sit down and discuss it with you before we start.
"Everyone was very nice and welcoming. Thorough and easy to follow what's needed treatment wise and for one that is afraid of chiropractors, everyone made me feel at ease." Lisa D.
Our Techniques
Webster's Technique
Pediatric Specific Adjusting
Diversified Technique
Thompson Technique
Activator
Gonstead Technique
Logan Basic
Sacro-Occipital Techniue
Cox Flexion
Torque Release Technique
CBP® (Clinical Biomechanics of Posture®)
Helping You Feel Comfortable at DBC
If you've never been adjusted before you may be unsure about what to expect. It's a common concern. We pride ourselves on our breadth of education and experience and can apply different approaches, including gentle adjustments, to meet your unique needs. You'll never receive cookie-cutter chiropractic, but instead customized care. With many techniques and tools at our disposal, you will get the best possible care to benefit you. We'll also discuss all aspects of your care with you before we begin, and make sure your questions are answered, whenever they arise.
CONTACT US »
Let us help your family achieve your health goals. Contact Dynamic Balance Chiropractic in Ajax today to book a consultation!

Chiropractic Care | (905) 686-0960